KAJAL NISHA PATEL - PHOTOGRAPHY & SOCIAL DOCUMENTARY
We meet at the artsy and inviting LCB Depot in the heart of Leicester's cultural quarter and Kajal shows me around the 'Lightseekers' photographic exhibition that features her poignant images of the the Vanasthali residential school in India that is attended by Adivasi (indigenous) students.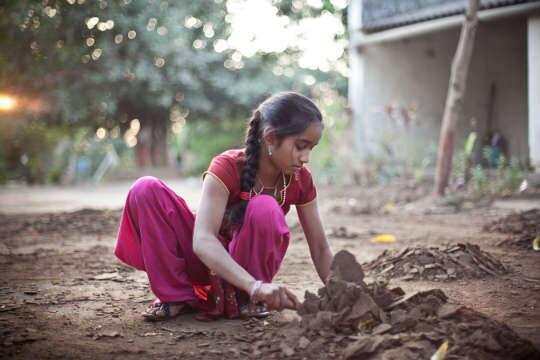 The children have advanced skills in farming and agriculture and are taught about their relationship with the land from a young age. Check out a summary video here.
Kajal told me how she hopes to grow this project to interact with school children in the UK to foster a cross-cultural understanding where young people can learn from each other. 
The project really moves me as it's important to notice that although countries like India are looked on as 'developing countries' and Western education is somewhat more 'advanced', the values and sustainable living habits that children at Vanasthali learn are incredibly valuable in such a consumerist, fast-paced society. 
It just goes to show that we can learn something from everyone and we don't always know best!
A lot of Kajal's work focuses on migration, diaspora and how communities have to adapt to economic and social environments. The video featured above about our relationships with our parents really hit home and highlights the struggles that immigrant families have to go to in order to provide a better future for their children i.e. us. 
Kajal has a wonderful, fighter spirit and is really committed to documenting communities, culture and giving a voice to the people :) it was awesome to connect with her!
Check out more of Kajal's work on:
- S